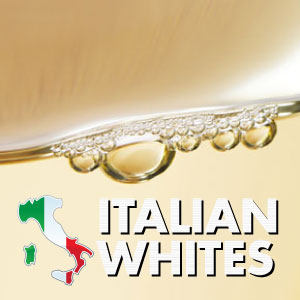 Shop These Featured Italian Whites
The number one selling Italian white in the US is still Pinot Grigio, and Premier definitely carries a varied selection of these light-bodied, citrusy wines all year round.
Branching out, however, the nation is famed for myriad varietals and wine styles ranging from lean to rich and crisp to mellow. Here are some of our favorite beyond-Pinot whites traversing the entire length of the boot from knee to heel:
Gavi (NW Italy) is comprised of the Cortese grape and showcases excellent mineral notes, high acidity and fresh, lemon-lime fruit, perfect for shellfish and other light seafood dishes.
Arneis (NW Italy) is famed for richer, smoother body and tends to feature more pear/orchard fruit flavors. These wines are best with more robust chicken or pork dishes, and especially creamy pastas.
Moscato d'Asti (NW Italy) is considered one of the greatest sweet white categories in the world, along with German Riesling and French Vouvray. These lightly-bubbled (frizzante) wines are loaded with rich peach, apple and grape flavors and they're terrific with desserts or light aperitifs.
Soave (NE Italy) is the number two white from the northeast (after Pinot Grigio, of course), a mellow, low-acid white rich in soft orchard fruits. Try these with pastas or grilled white fish.
Verdicchio, Vernaccia and Orvieto (Cent. Italy) are some of the most popular types of wines from central Italy. Any of these fresh whites will compliment a variety of seafood, vegetarian, or white meat dishes.
Falanghina, Fiano, and Greco di Tufo (So. Italy) are aromatic whites that tend to have full, soft flavors of apples, lychee and melon notes. These work especially well with savory, slightly spicy Indian or Asian cuisine.
There are no products matching the selection.