Grenache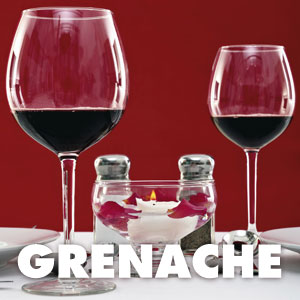 Shop for Grenache/Garnacha
Grenache (or Garnacha in Spain) is one of the world's most widely planted red grape varieties, yet the name is only faintly familiar to the majority of wine drinkers. It is the dominant grape in the famed spicy wines of France's southern Rhône, with Syrah, Mourvèdre and Carignan filling in the blend. Grenache is much cherished, especially in the handcrafted beauties of Châteauneuf-du-Pape, where it achieves its greatest heights. In one of its more affordable incarnations, red Côtes-du-Rhône, Grenache is the quintessential bistro wine.
Grenache thrives in a hot, dry Mediterranean type climate, and Grenache wines are fruity and soft on the palate, almost liqueur-like in texture, with low tannins and acidity. Grenache benefits greatly from blending with a sturdy grape like Syrah or Tempranillo, both of which add tannin and acidity to the soft, fleshy grape. In Australia, these Grenache blends are labeled simply "GSM" (Grenache, Shiraz, Mourvèdre).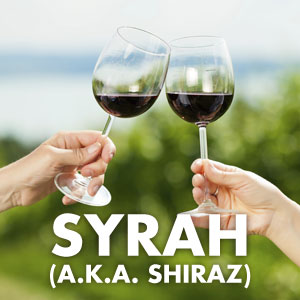 Shop for Syrah (Shiraz)
Syrah is the principal grape of the northern Rhône wines, found in the sturdy offerings of Cornas, Côte-Rôtie, Crozes-Hermitage, Hermitage and Saint-Joseph. Some believe that the grape may have first appeared in the city of Shiraz (in the southeast of present day Iran), but whatever its origins, it is clear that this grape was already established in the Rhône Valley by Roman times.
Like Cabernet, Syrah produces a tannic, deeply colored wine with robust flavors of black berry, smoke, pepper and tar. Today, Australia has taken over as the most visible producer of this grape, which they call Shiraz. Shiraz is Australia's most widely-planted red grape, and Australian Shiraz provides one of the weightiest mouthfuls of any red wine! The most acclaimed Australian wine region, Barossa Valley, is the birthplace of the legendary Penfolds Grange. Rich and extraordinary, this is the most collectible Australian wine and one of the most famous wines anywhere made from Syrah.
Outside of France and Australia, Syrah wines are also being produced in California, Washington, Chile, and South Africa.
2006 / 750 ml.

France | Southern Rhône | Côtes du Ventoux

Item #53457

Compare:

$14.99

You save: $3.00