Spain
View wines from specific regions:

View popular grape types:

Spain has been growing grapes and making wines for as long, if not longer than, France and Italy, yet they do not get the same recognition. Spain grows most of the major varieties: Cabernet, Syrah, Merlot, and also Garnacha (Grenache) (the most widely planted grape in all of Spain). But it's their native varietals that make the wine so interesting and uniquely Spanish. Grapes like Tempranillo (which depending on the region can go by over a hundred different names), Graciano, and Mencia are some of the better known reds. Albariño, Verdejo, and Viuna are some of the standout whites.

Despite having the most acres of land dedicated to viniculture in all of the world, Spain ranks third in production behind France and Italy. The Spanish terroir makes it necessary to plant the vines farther apart than in other locations, and the low yield from most of the vines accounts for the smaller production. The numerous micro-climates throughout the countryside help create the wide variety of wine styles. In the northern areas around Barcelona they make the signature sparkling wine of Spain called Cava - a great alternative to the higher-priced Champagnes of France. The major regions of Rioja, Ribera Del Duero, Priorat, Rueda, Toro, and Rias Biaxas produce some of the finest red and white wines in all the world. Then down south in Jerez some of the finest fortified wines, Sherries, are produced.

There are Spanish wines for every occasion - your Tuesday night wine all the way to Princess Diana and Prince Charles's wedding. But the huge selection and variety of wines that one can get in Spain is the best in the world and you don't need be to a member of the Royal Family to enjoy them.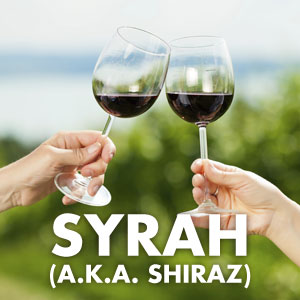 Shop for Syrah (Shiraz)
Syrah is the principal grape of the northern Rhône wines, found in the sturdy offerings of Cornas, Côte-Rôtie, Crozes-Hermitage, Hermitage and Saint-Joseph. Some believe that the grape may have first appeared in the city of Shiraz (in the southeast of present day Iran), but whatever its origins, it is clear that this grape was already established in the Rhône Valley by Roman times.
Like Cabernet, Syrah produces a tannic, deeply colored wine with robust flavors of black berry, smoke, pepper and tar. Today, Australia has taken over as the most visible producer of this grape, which they call Shiraz. Shiraz is Australia's most widely-planted red grape, and Australian Shiraz provides one of the weightiest mouthfuls of any red wine! The most acclaimed Australian wine region, Barossa Valley, is the birthplace of the legendary Penfolds Grange. Rich and extraordinary, this is the most collectible Australian wine and one of the most famous wines anywhere made from Syrah.
Outside of France and Australia, Syrah wines are also being produced in California, Washington, Chile, and South Africa.