Italy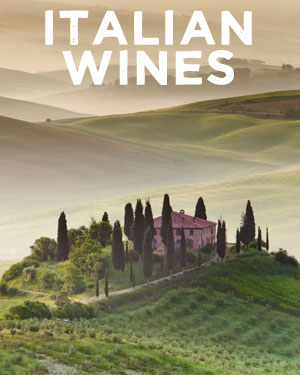 Shop for Italian Wines
Because of the diversity in culture, climate and terroir, Italian wine takes on many different faces. Whites from northern and coastal areas are generally light-bodied and unoaked with prominent acidity, while those from southern areas tend to be fuller and softer. Reds can range from light and lean to rich and lush.
But one thing ties all of these together: the wines of Italy are definitely designed for food-friendliness. Good Italian wine is meant to accompany a good (though not necessarily Italian) meal. The higher acidity levels and leaner body for which these wines are famous never overpowers the dish, and the wide spectrum of flavors means you can find something appropriate to any meal.
View wines from specific regions:
View popular grape types: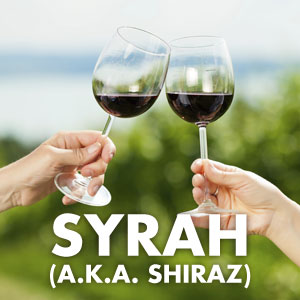 Shop for Syrah (Shiraz)
Syrah is the principal grape of the northern Rhône wines, found in the sturdy offerings of Cornas, Côte-Rôtie, Crozes-Hermitage, Hermitage and Saint-Joseph. Some believe that the grape may have first appeared in the city of Shiraz (in the southeast of present day Iran), but whatever its origins, it is clear that this grape was already established in the Rhône Valley by Roman times.
Like Cabernet, Syrah produces a tannic, deeply colored wine with robust flavors of black berry, smoke, pepper and tar. Today, Australia has taken over as the most visible producer of this grape, which they call Shiraz. Shiraz is Australia's most widely-planted red grape, and Australian Shiraz provides one of the weightiest mouthfuls of any red wine! The most acclaimed Australian wine region, Barossa Valley, is the birthplace of the legendary Penfolds Grange. Rich and extraordinary, this is the most collectible Australian wine and one of the most famous wines anywhere made from Syrah.
Outside of France and Australia, Syrah wines are also being produced in California, Washington, Chile, and South Africa.
2006 / 750 ml.

Italy | Tuscany | Cortona

Item #58381

Limited inventory.
10 bottles or less in stock; we will confirm your order by email.

Compare:

$19.99

You save: $7.00

2009 / 750 ml.

Italy | Tuscany | Toscana

Item #74812

Only $34.19 when you buy a solid or mixed case

2003 / 750 ml.

Italy | Tuscany | Cortona

Item #39054

Limited inventory.
10 bottles or less in stock; we will confirm your order by email.

Compare:

$49.99

Online exclusive: save 20%