Argentina
View wines from specific regions:

View popular grape types:

Argentina is the fifth-largest wine-producing country by volume in the world. Viticulture first arrived there during the Spanish colonial era, with the first vineyard established in the 1550s. But until recently, almost all of the wine produced in Argentina was consumed within its borders.

In the early 1990s, a conscientious effort was made by Argentinian viticulturists to improve quality and increase exports. Now, Argentina is starting to establish itself as a serious player in the international wine market, with a reputation for selling high quality wines at consumer-friendly prices.

More than two-thirds of the wine produced in Argentina comes from the Mendoza region, situated in the foothills of the Andes Mountains. Here you'll find some of the world's finest Malbecs, which has become Argentina's signature grape over the past 15–20 years. Other prominent growing regions include San Juan and La Rioja, which are located further north.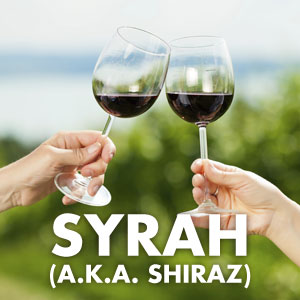 Shop for Syrah (Shiraz)
Syrah is the principal grape of the northern Rhône wines, found in the sturdy offerings of Cornas, Côte-Rôtie, Crozes-Hermitage, Hermitage and Saint-Joseph. Some believe that the grape may have first appeared in the city of Shiraz (in the southeast of present day Iran), but whatever its origins, it is clear that this grape was already established in the Rhône Valley by Roman times.
Like Cabernet, Syrah produces a tannic, deeply colored wine with robust flavors of black berry, smoke, pepper and tar. Today, Australia has taken over as the most visible producer of this grape, which they call Shiraz. Shiraz is Australia's most widely-planted red grape, and Australian Shiraz provides one of the weightiest mouthfuls of any red wine! The most acclaimed Australian wine region, Barossa Valley, is the birthplace of the legendary Penfolds Grange. Rich and extraordinary, this is the most collectible Australian wine and one of the most famous wines anywhere made from Syrah.
Outside of France and Australia, Syrah wines are also being produced in California, Washington, Chile, and South Africa.