Tempranillo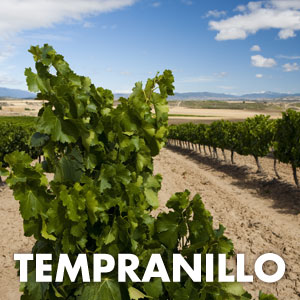 Shop for Tempranillo
Tempranillo, a black grape, is native to the Iberian peninsula and it dominates so many of the greatest Spanish wines. It is one of the primary grapes in such regions as Rioja, Ribera del Duero, Priorat, and Toro. But even then, Tempranillo is flexible enough to be grown down in some of the southern regions of Spain, like Ribera Guadiana or La Mancha.
Depending on where a Tempranillo wine comes from, it could be as full-bodied as a California Cabernet or Bordeaux, or have the delicateness and sophistication of a Burgundy. The main flavors and aromas are that of dark berries (raspberries, blackberries etc.) and violets. Tempranillo is also a great grape to use in blending. In Rioja (the "Bordeaux of Spain") the grape blends perfectly with Grenache or even Graciano. In Priorat, some winemakers blend it with Syrah, or even Cabernet.
The flexibility and variety of Tempranillo wine is astonishing. If you want some adventure in your life (and wine), grab some Spanish wine with Tempranillo and enjoy all that the Iberian peninsula can offer.
View wines from specific regions:

View popular grape types:

Spain has been growing grapes and making wines for as long, if not longer than, France and Italy, yet they do not get the same recognition. Spain grows most of the major varieties: Cabernet, Syrah, Merlot, and also Garnacha (Grenache) (the most widely planted grape in all of Spain). But it's their native varietals that make the wine so interesting and uniquely Spanish. Grapes like Tempranillo (which depending on the region can go by over a hundred different names), Graciano, and Mencia are some of the better known reds. Albariño, Verdejo, and Viuna are some of the standout whites.

Despite having the most acres of land dedicated to viniculture in all of the world, Spain ranks third in production behind France and Italy. The Spanish terroir makes it necessary to plant the vines farther apart than in other locations, and the low yield from most of the vines accounts for the smaller production. The numerous micro-climates throughout the countryside help create the wide variety of wine styles. In the northern areas around Barcelona they make the signature sparkling wine of Spain called Cava - a great alternative to the higher-priced Champagnes of France. The major regions of Rioja, Ribera Del Duero, Priorat, Rueda, Toro, and Rias Biaxas produce some of the finest red and white wines in all the world. Then down south in Jerez some of the finest fortified wines, Sherries, are produced.

There are Spanish wines for every occasion - your Tuesday night wine all the way to Princess Diana and Prince Charles's wedding. But the huge selection and variety of wines that one can get in Spain is the best in the world and you don't need be to a member of the Royal Family to enjoy them.