Tempranillo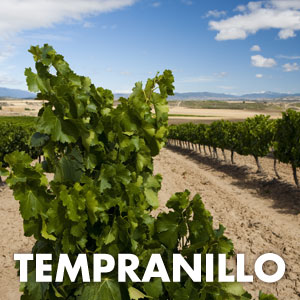 Shop for Tempranillo
Tempranillo, a black grape, is native to the Iberian peninsula and it dominates so many of the greatest Spanish wines. It is one of the primary grapes in such regions as Rioja, Ribera del Duero, Priorat, and Toro. But even then, Tempranillo is flexible enough to be grown down in some of the southern regions of Spain, like Ribera Guadiana or La Mancha.
Depending on where a Tempranillo wine comes from, it could be as full-bodied as a California Cabernet or Bordeaux, or have the delicateness and sophistication of a Burgundy. The main flavors and aromas are that of dark berries (raspberries, blackberries etc.) and violets. Tempranillo is also a great grape to use in blending. In Rioja (the "Bordeaux of Spain") the grape blends perfectly with Grenache or even Graciano. In Priorat, some winemakers blend it with Syrah, or even Cabernet.
The flexibility and variety of Tempranillo wine is astonishing. If you want some adventure in your life (and wine), grab some Spanish wine with Tempranillo and enjoy all that the Iberian peninsula can offer.
View specific Port wine styles:

Portugal, like many of its European counterparts, has a rich winemaking history that dates back to the Roman Empire. Wine has been made there continuously since that time, though winemaking was likely much less prominent during the 800-year occupation of the country by the Muslims and Moors.

Today, Portugal is most famous for Port (or "Porto") wines, which have been produced in the country since the 1600s. These unique fortified wines are produced exclusively from grapes harvested in the Douro Valley, and draw their name from the seaport city of Porto, where they were traditionally brought to market or packaged for export. Port is made in several styles, including Vintage, Tawny, Ruby, Late Bottle Vintage and Colheita.

Madeira, another fortified wine, is produced on the Portuguese island of the same name. In addition to fortified wines, Portugal also produces some fine table wines. Their reputation in this market has improved considerably over the past 15 years or so. Most of these wines come from the Douro Valley and Dão regions, with a few originating in the Vinho Verde region of northern Portugal.