Chardonnay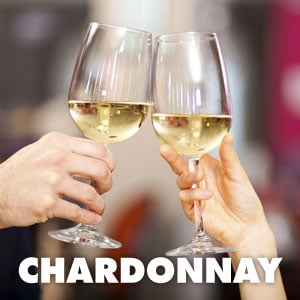 Shop for Chardonnay
Chardonnay is the most popular white wine in the world, and also one of the most diverse. Depending on the soil, climate and winemaking traditions of the region in which it is grown, its style can range from steely and crisp to creamy and toasty.
When it comes to Chardonnay, wine enthusiasts often look to celebrated regions like Burgundy and California. Winemakers around the world try to emulate the prestigious Chardonnays from appellations in Burgundy such as Montrachet, Corton Charlemagne, Meursault and Chablis. Chardonnay wine is also indispensable to the superlative sparkling wines of Champagne. In fact, almost every major wine region from the Finger Lakes to New Zealand has embraced this stellar grape.
The characteristic flavors of Chardonnay include apples, pears, lemon and pineapple. Medium-full in body, with zesty acidity and the potential for excellent balance of fruit, Chardonnay is a delightful food partner as well as a wine to sip on its own.
View wines from specific districts:

View popular grape types:

Though vines have been planted since the early 20th Century, the New Zealand wine industry has only begun to take shape in the past 20 years, and even now only accounts for less than 1% of world production.  Much of the attention for New Zealand wine focuses on whites, with Sauvignon Blanc as the signature grape (Chardonnay is a distant second). Pinot Noir is New Zealand's signature red.

The cool climate encompassing New Zealand's growing regions is perfect for high acidity, bright-in-fruit wines. Sauvignon Blancs from New Zealand exhibit copious amounts of grapefruit and green pepper notes, while the Pinot Noirs showcase a combination of the California-style boldness and Oregon-style crispness.

Major growing regions include Marlborough, Martinborough, Hawke's Bay and Central Otago.
There are no products matching the selection.